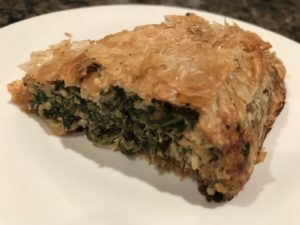 This is one of my favorite things to make. I can't claim credit for the recipe, since it's based on Ina Garten's fantastic Spanakopita recipe. Other than substituting healthy ingredients wherever possible, one big change was adding garlic. Wow, did this add to the taste! It's almost like eating garlic bread with spinach on it.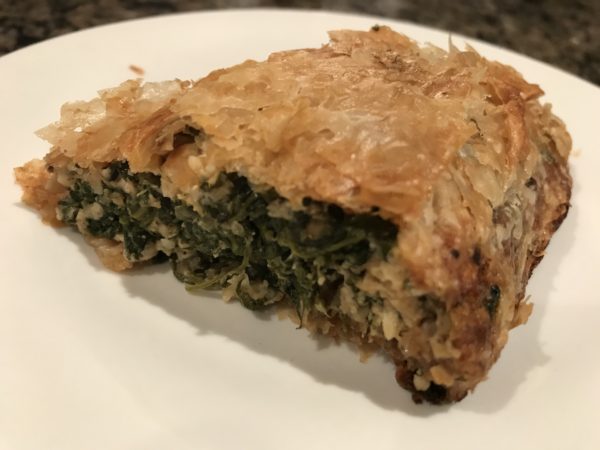 | | |
| --- | --- |
| | |
Preheat the oven to 375 degrees F.

In a medium saute pan on medium heat, saute the onions with the olive oil until translucent and slightly browned, about 10 minutes. Add the salt and pepper and allow to cool slightly.

Bring a large pot of water to a boil. Add the spinach and stir to ensure that all of it is covered in the water. Boil until the spinach turns a bright green color, about 1 minute, then drain. Squeeze out and discard as much of the liquid from the spinach as possible.

Pulse the pine nuts in a food processor if desired. Gently mix the spinach with the onions, eggs, nutmeg, Parmesan cheese, bread crumbs, feta, and pine nuts.

Butter a casserole pan and lay a sheet of phyllo dough sideways so it hangs over the sides. Place a damp cloth over the remaining sheets of phyllo dough so they don't dry out. Brush the part of the phyllo dough that's in the pan with butter, then press another sheet over the top of it in the same way. Continue alternating sheets of phyllo dough with butter until there are 6 sheets in the pan.

Pour the spinach mixture into the middle of the phyllo dough in the pan. Fold up the hanging edges of the first sheet of phyllo dough so it covers the spinach mixture, then brush with butter.

Continue this pattern with the remaining sheets flaps until the spinach filling is sealed. Pinch together any open spots. Brush the rest of the butter over the top of the pastry.

Bake for 1 hour, until the top is golden brown. Remove from the oven and allow to cool before serving.