I've made croquettes several times before, always with potato as the main ingredient. With Weight Watchers declaring potatoes to be Bad (due to high starch), I decided to sub out the potato in favor of rutabaga. Not surprisingly, this lightened things up considerably (rutabaga is 10 calories/ounce compared to the potato at 26 calories/ounce). The result is 104 calories per croquette…and they're a good size (almost 3 ounces each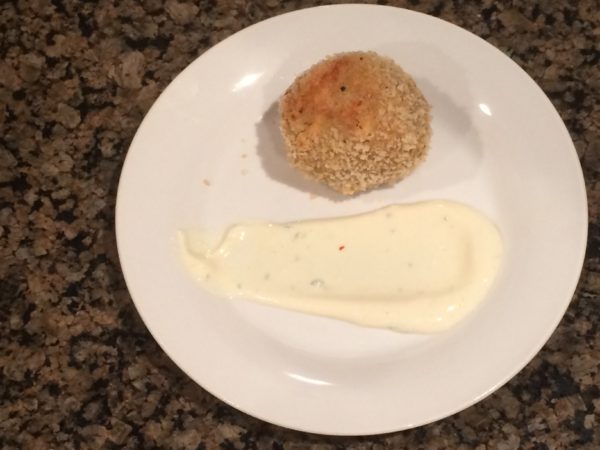 | | |
| --- | --- |
| | |
Preheat oven to 375 degrees F.

Peel rutabaga, then cut into large chunks. Boil for 20-30 minutes or until soft.

Combine breadcrumbs with salt and pepper and place on a baking sheet. Cook for no more than 2 minutes, or long enough to brown them.

While the rutabaga are cooking, cut bacon into small pieces and heat in a pan on medium for about 5 minutes. Add onion and sautee until it starts to turn a golden brown. Add garlic and cook for another minute while stirring constantly to prevent burning. Allow to cool, but save everything in the pan (including the grease).

Mash rutabaga by hand or run through a ricer. Allow to cool: combining hot rutabaga with the salmon will cook it partially, resulting in overcooking in the oven.

Chop salmon into small pieces (about 1/4 inch chunks).

Blend onion, garlic, bacon, rutabaga, sumac, 1 egg, salt, and lemon juice.

Roll mixture into 14 equal-sized balls (a little less than 3 ounces each).

Place egg in a small container with a tablespoon of water and whisk. Place breadcrumbs in another small container. Roll each ball in the egg, then in the breadcrumbs, and place on a baking sheet brushed with oil. If possible, use a spray bottle to spray the surface of each croquette.

Bake for 10 minutes, then turn over and bake for another 10 minutes. Remove from oven and place on cooling rack.

Combine sauce ingredients and allow to rest for 15 minutes in refrigerator before serving.