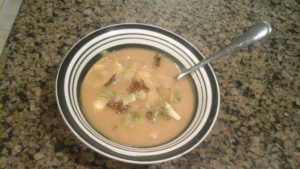 The sweetness of the squash works nicely with the strong flavor of the Brussels sprouts. The squash is a natural thickener, creating a thick and creamy soup that is also completely healthy.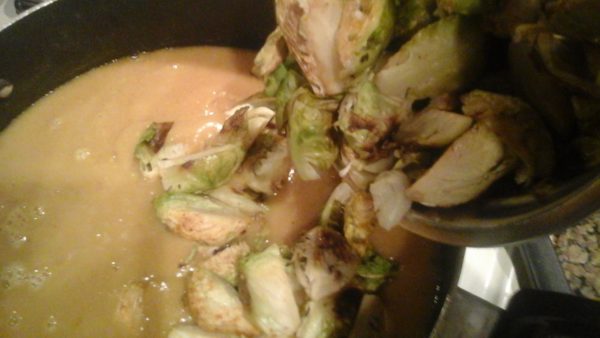 | | |
| --- | --- |
| | |
Preheat oven to 375 degrees F.

Cut acorn squash in half. Scoop out seeds. Place flesh side up on a baking sheet. Spray a few squirts of oil on the flesh, and dust with berbere.

Cut stems from Brussels Sprouts. Cut each sprout in half. Spray a baking sheet with oil. Place sprouts - cut side up - on baking sheet. Squirt oil on sprouts, and dust with berbere.

Place squash and sprouts in oven to bake. After 30 minutes, remove sprouts. Cut the larger pieces in half if desired and set aside. Reserve any crispy leaves that fall on the sheet as a finisher to the soup if desired (or just munch on them).

While the squash cooks, add bacon pieces to a large pot on medium heat. Once the fat starts to render, add onion pieces to the pot. Cook for about 5 minutes, stirring occasionally. Add serrano pepper and cook for another 5 minutes, stirring occasionally.

After 15-20 more minutes - or until a fork easily pierces the flesh - remove squash from the oven. Cool if desired, then scoop flesh out.

Stir miso paste into the pot with the onion and bacon. Cook for about 1 more minute, then add squash. Stir to coat with bacon and onion mixture.

Add stock to the pot, and stir to remove any clumps. Bring to a boil, then lower heat to medium. Cook for another 30 minutes.

Working in batches, puree the mixture from the pot in a blender, then return to the pot.

Add Brussels sprouts to the soup in the pot. Stir to fully integrate, then serve. Add crispy Brussels sprouts leaves to the bowl as a finisher if desired.