Chicken Tikka Masala is typically made with chicken thighs, which is how I always made it before becoming more health-conscious. But, the flavors of the tikka sauce are so good that I didn't notice the difference between the thigh and the healthier chicken breast.
I'm so happy with how this turned out, but part of me is disappointed that I couldn't do this as a 0 Weight Watchers point recipe. The only two things contributing points this recipe are: a small amount of light butter to sauté the ginger and garlic; a scant amount of oil was needed to grill the chicken; and, skim milk is needed to provide a small amount of creaminess. The milk wasn't entirely necessary, but removing it still didn't get me to 0 Weight Watchers points per serving, so I left it in (4 points for butter and 1 point for oil / 6 servings).
This recipe isn't as hard to make as it might seem. You can do the marinade the night before, and you can just buy the cauliflower rice if you want to save the time there. By the way, I didn't season the rice because I wanted the Tikka to stand out.
As prepared, this is 216 calories per serving (6 servings) and loaded with protein (25 g), potassium (758 mg), and vitamin C (85% of your RDA).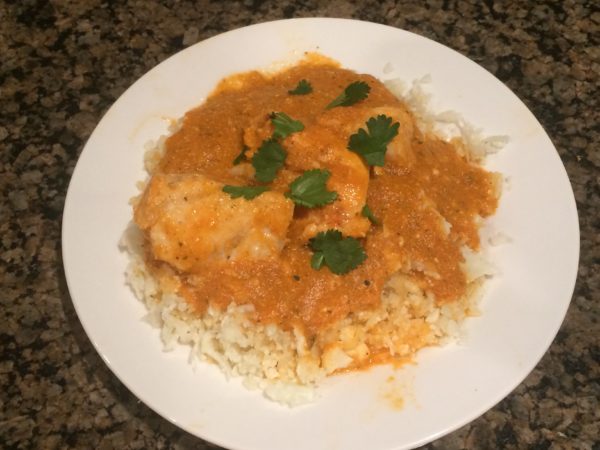 | | |
| --- | --- |
| | |
Trim any remaining fat from the chicken. Combine 1/2 of ginger and 1/2 of garlic with yogurt, pepper and 1 teaspoon of salt. Thoroughly coat chicken and marinade for 1 hour in refrigerator, or up to overnight.

Add butter to a large non-stick pan on medium heat, then add remaining garlic, ginger, and Serrano pepper. Stir occasionally (I use the edge of a spatula) until the mixture starts to brown.

Stir in garam masala and paprika, and cook for 1 more minute to release the flavors of the spices. Add tomatoes, scraping up whatever sticks to the pan, and cook on medium heat for 2 minutes. Raise the heat to a boil, then lower to a simmer for another 20 minutes with no cover on the pan.

NOTE: the following can be done in a pan, but you'll miss out on the amazing flavor imparted by the grill. You might want to put foil down on the bottom of your grill to catch dripping yogurt. Also, don't worry about the chicken cooking through here, as the last part of the recipe will complete the cooking process.

While the mixture is simmering, lightly brush your gas or wood-fired grill with oil. Fire up your grill, then lower flames to medium. Carefully place the marinaded chicken on the grill (so it doesn't fall through!) and cook for 2 minutes per side. Set aside.

NOTE: microwaving the grated cauliflower will make it soggy!

Grate half a head of cauliflower with a box grater. Place cauliflower in a pan on medium heat and cook for 10 minutes, stirring to ensure equal cooking.

When the sauce in the pan (from step 3) is done cooking, pour it into a blender and puree. Pour back into the pan.

Grind fenugreek leaves in a spice grinder (I use a coffee grinder that I never use for coffee). Fenugreek leaves can be found at any Asian grocery store. The seeds and powder are much more intense, so use a teaspoon instead of a tablespoon if making that substitution.

Add fenugreek and chicken to the pan and simmer for 10 minutes, stirring occasionally. Stir in milk. Serve over cauliflower rice.
Serve with light naan bread and eat at your desk if you want to impress your co-workers.