This was several years in the making. I've always had this idea of making the colors of the Italian flag, although that idea has always been to do it with pasta. But, in my continuing quest for healthier options, I decided to make a gnocchi with rutabaga. I decided to add a potato at the last minute because I wasn't sure how well it would bind without the starch.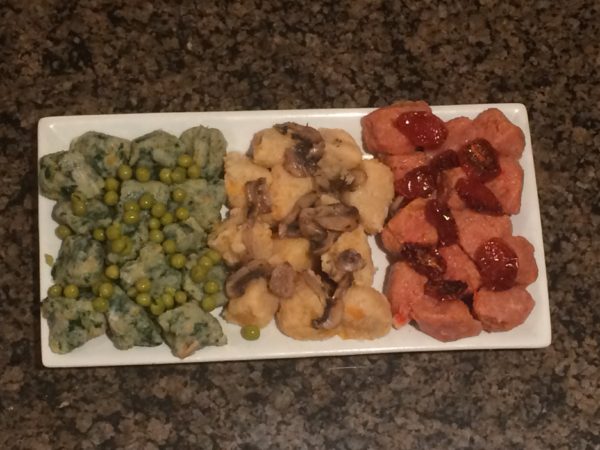 | | |
| --- | --- |
| | |
Cut or peel the skin off the rutabagas. Cut into 2 inch chunks. Boil for 30 minutes or until a fork can pierce it easily.

Wrap garlic cloves in aluminum foil with 1 teaspoon of olive oil. Cook at 400°F (205°C) for 45 minutes. Cook at the same time as the potato in the next step if desired. NOTE: I know that garlic is usually roasted with the head together. But, since I don't need the cloves to keep their shape, this is much easier.

Pierce potatoes and bake whole at 400°F (205°C) for 45 minutes or until a fork can pierce it easily. Cut open potato carefully and scoop out the insides.

Mash rutabagas and potatoes together. Push through a ricer if you have one. Otherwise, mash until there are no chunks remaining.

Mix mash together with 1 cup of flour, salt, and egg. Only blend long enough to incorporate ingredients. Separate dough into 3 separate, equal portions.

Chop spinach finely. Blend with 1 portion of the dough and set aside for at least 30 minutes to allow the colors to integrated.

Blend roasted garlic (mash up if needed) into 1 portion of dough and set aside.

Saute peppers in 1 teaspoon of oil. Scrape pan clear and add to 1 portion of dough. Mix in tomato paste if a deeper red color is desired.

Dust a cutting board generously with flour. Prepare one color gnocchi at a time, keeping the other colors separate for steps 10-Bring a large pot of water to a boil. Have a large bowl filled with ice water and a colander inserted in it ready; make sure the ice is on the outside of the colander. Also have a drying rack and a large plate ready.

Break one color dough into 4 portions. Roll these out into a rope that's about 1/2 inch (12 mm) in diameter, dusting the outside with flour. Cut into equal portions, dusting the ends with flour to seal any exposed areas.

Boil gnocchi in small batches (10 - 12 at a time). When they float to the top of the water, scoop them out with a slotted spoon and insert into ice water.

Start the next batch of gnocchi for that color. When that batch is done, pull the colander out of the water to drain the gnocchi, and place cooled gnocchi on a drying rack. Once the next batch is ready, transfer the cooled, dried gnocchi onto a separate plate to make room for the next batch.

Repeat steps 10-13 for one color of gnocchi until that color is completed. Set aside and repeat steps 10-14 for the other 2 colors. Keep the colors separate.

Again working with one color at a time, spray a non-stick pan with cooking spray, and toss gnocchi until it gets browned a bit on all sides. Allow to cool completely on the cooling rack before storage to keep them from sticking together.

Toss gnocchi in melted butter or butter spray. Serve the green gnocchi with peas. Serve the red gnocchi with oven-dried (or sun-dried) tomatoes. Serve the white gnocchi with mushrooms. Or, mix them all together if you like.