Just because I'm limiting my calories doesn't mean I'm limiting how good my food tastes. I had my first deep fried egg in Detroit on my birthday 2 years ago, and it blew me away. I've made a deep fried egg before, and it works out to four points per egg.
I wanted to see if I could duplicate it in the air fryer. It was tricky, but here's how I did it. My only regret is that there wasn't a runny yolk. I'm not sure if it's possible to keep the yolk runny – which is why a poached the egg instead of hard boiling it – but I'm going to keep trying until I see if it's possible. The result was delicious, with a nice crispy exterior.
Nutritional info was calculated based on the breadcrumbs, flour, and egg yolk that was actually needed to make the egg. After subtracting the flower, breadcrumbs, and egg yolk that remained, each air fried egg is 125 calories.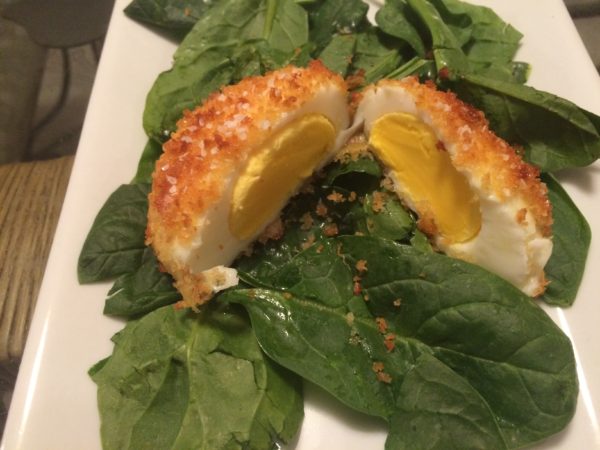 | | |
| --- | --- |
| | |
Bring a pot of water with vinegar in it to a boil, then lower to a simmer. There should only be small bubbles on the bottom of the pot.

Crack egg into a ladle. Use a spoon to get the water spinning like a whirlpool, and carefully lower the egg into the middle of it.

Cook egg for three minutes, then remove with a slotted spoon, and immediately place in an ice water bath. After a few minutes, remove egg from ice water with slotted spoon, and place on a paper towel. Very carefully dry the exterior of the egg.

Turn the air fryer onto 375°, and preheat for five minutes.

Gently dust the outside of the egg with flour. Carefully remove any excess.

Whisk egg yolk in a little bowl. Carefully Roll egg in the egg yolk. Hold the egg over the bowl to allow access to drip off.

Mix salt with breadcrumbs on a plate. Carefully roll egg in breadcrumbs. Sprinkle breadcrumbs to cover any openings.

Spray one side of the egg with 12 squirts from spray bottle. Carefully flip over egg, and spray the other side 12 times.

Carefully place egg in middle of air fryer basket. Cook egg for five minutes. If it's not golden brown, cook in one minute intervals until it is.