Some of you might want to make this recipe because it's delicious. Others may want to make this because you accidentally bought the Kroger brand cornflakes, instead of the Kellogg's brand your wife wanted, and now you've got lots of extra cornflakes. I won't judge.
If you decide to use larger shrimp, you may have to cook a little bit longer. Don't use shrimp that are too small, because they'll overcook.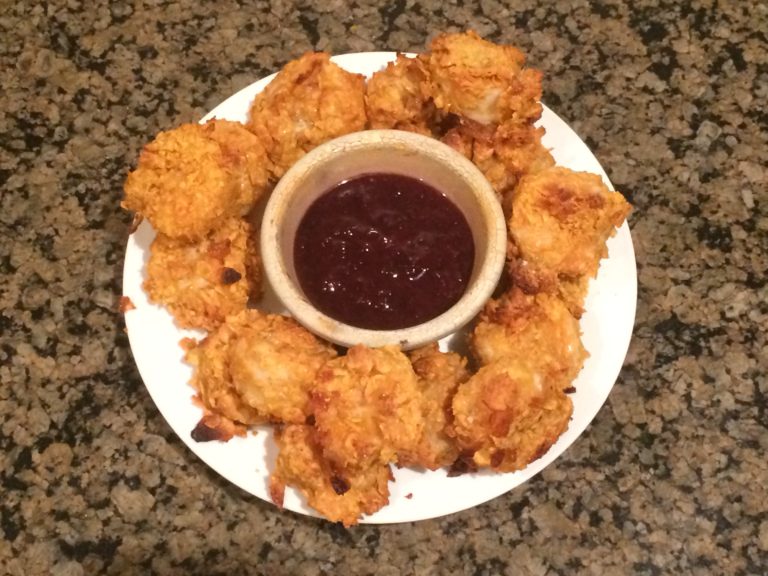 | | |
| --- | --- |
| | |
Preheat oven to 475°F. Spray baking sheet with 10 squirts of oil.

Sprinkle salt, pepper, and seasoning on both sides of the shrimp. Add remaining seasoning to a bag with flour, and shake to combine.

Crush cornflakes in another bag. They should still be a little bit chunky: don't reduce them to a powder!

Place a few shrimp in bag with flour mixture, seal, and shake to coat shrimp.

Place beaten egg in a shallow container. Dip a few shrimp at a time in the egg, then pull out and allow to drip excess back into container.

Place shrimp in bag with cornflakes, and carefully roll around to coat. Place on baking sheet.

Repeat steps 4 - 6 until all shrimp have been coated and placed on baking sheet. Spray top of shrimp with remaining 10 squirts of oil.

Bake in oven for 10 minutes. Allow to cool slightly, then serve with homemade blueberry barbecue sauce, if desired
I should also note that I have taken an empty container of butter spray, and put oil in it. This is essential for this recipe, since you can put a small amount of oil on the shrimp without drenching it. It's also essential if you have an air fryer.
Instead of cornflakes, you can crush up just about anything. Here's what happened when I used a combination of corn chips, Doritos, and Takkis:
This doubles the Weight Watchers points for 3 shrimp (from 1 to 2).