Why shrimp falafel? Well, I ended up having to wait to make falafels for a variety of reasons, (raw) shrimp was on sale, and so I was able to add an extra 1.25 ounces to each patty (3 ounces total) while keeping it at 0. That, and shrimp are AWESOME.
NOTE: using canned chickpeas will result in a denser texture than using fresh ones.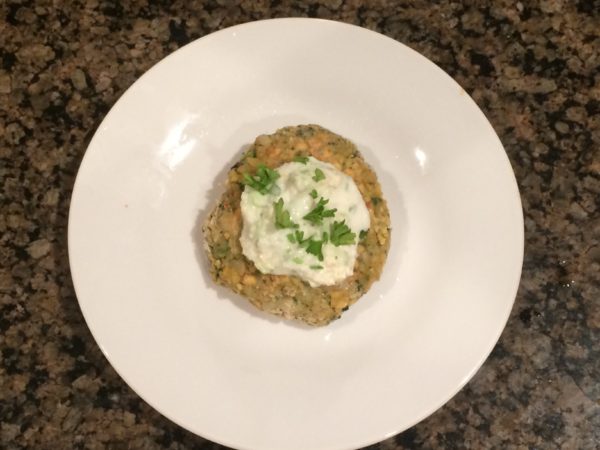 Falafel Patty Ingredients
Soak garbanzo beans overnight in enough water to cover completely, with a few extra inches over the top. Drain any water that hasn't soaked in and rinse the beans. The beans should have doubled in size and weight. Save 1 pound of the beans and store or use the rest for another recipe.

Place all ingredients except for shrimp, flour, yogurt, Brussels sprouts, and grapefruit in a food processor. NOTE: Pulse until the mixture comes together, but is still grainy. Scrape down the sides of the food processor to ensure a good mix.

Mix chopped shrimp into the garbanzo bean mixture by hand until fully blended. Form the mixture into 12 equal-sized patties. Lightly pat exterior with flour and remove any excess. Spray a non-stick pan with cooking spray and raise to medium heat. Cook in a pan for about 2 minutes per side, until browned.

Juice and zest the grapefruit. Save 1/2 cup of juice. Boil Brussels sprouts in water for 5 minutes, then place in ice water to cool. Chop sprouts into small pieces. Combine juice, zest, yogurt, and sprouts in a food processor, and blend. The result will be chunky. Taste and add salt as desired. Serve with patties.