I'm surprised at how much a lean cut of pork is versus chicken. I made this one with pork, but it can be done exactly the same way with chicken. I decided to put the pork chops on the grill first, to impart some extra flavor, before the stir-fry.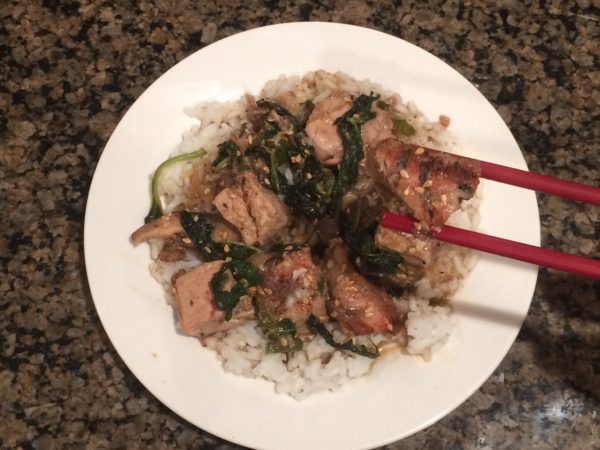 | | |
| --- | --- |
| | |
Keep pork chops whole with fat on. Brush with sesame oil on both sides, and rub seasoning on both sides. Grill over medium-high flames for about 2 minutes per side...just enough to get a char.

Remove from heat, and allow chops to rest for at least 5 minutes. Cut into equal-sized chunks and set aside.

Add canola oil to a medium-high heat wok. Cook onions until softened, about 5 minutes. Add garlic, ginger, sesame seeds, and peppers, and heat for another minute while stirring constantly to prevent burning.

Add ponzu, fish sauce, chicken stock, and pork. Scrape up everything in the pan, and heat for another 5 minutes, stirring frequently.

Lower heat to medium-low. Add basil leaves, and stir thoroughly to coat. Simmer for another 5 minutes. Serve over rice.