This is adapted from a Thai Coconut Soup recipe I used to make, but fresh corn is used as a thickener instead of cornstarch. This also means that less of the coconut milk is needed to give it a creamy consistency. And, best of all, it's tasty and incredibly healthy.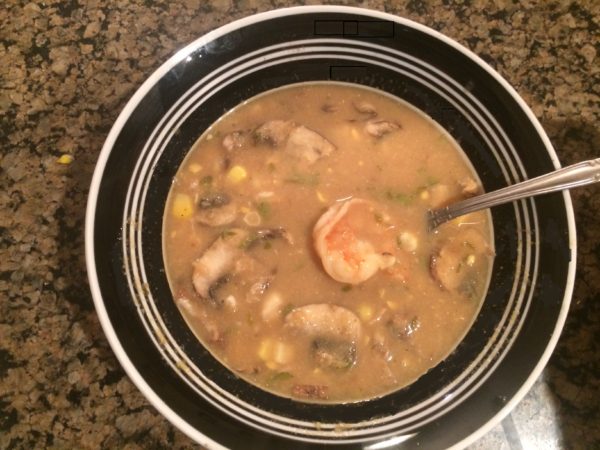 | | |
| --- | --- |
| | |
Boil corn for 8 minutes in water with some sugar and salt added. Remove from water, and roast corn on the grill until grill marks form. Remove from grill, and cut kernels off the cob, saving cobs.

Bring stock to a boil, then lower to a simmer. Add corn cobs and shells and juices reserved from the shrimp. Cover and allow to simmer for at least half an hour. Strain liquids out and set aside.

Add 3/4 of corn kernels to a blender with 1 cup of stock. Blend until pureed, then set aside. NOTE: a food processor can't puree the kernels, and you'll end up with "corn pebbles" in your soup...still tasty, but not the ideal texture.

Separate seeds, if any, from tamarind paste and discard.

Heat the oil in a small pan over medium heat. Stir in the ginger, garlic, lemon grass, pepper, and tamarind paste for 1 minute.

Slowly pour all but 1 cup of the stock over the mixture, stirring continually.

Stir in the fish sauce; simmer for 15 minutes.

Stir in the coconut milk, mushrooms, corn kernels and cilantro; cook and stir until the mushrooms are soft.

Add the shrimp; cook until no longer translucent (about 5 minutes).

Stir in the lime juice and rice vinegar. Heat for 1 minute, then serve.
Refer to How to Make a Stock to make your own stock for this recipe. Most store-bought stocks are heavier, but still not bad: this recipe becomes a 3-point-per-bowl recipe with a standard store-bought stock.
You can make this soup less spicy by removing the seeds from the pepper, or by using a milder pepper.