Once I figured out how to make these myself, I stopped buying sun-dried tomatoes. At my local fruit and vegetable market, I can get a 10 ounce container of cherry tomatoes for less than a dollar. For a few pennies more, I can make something just as good as sun-dried tomatoes, for a fraction of the cost (and the calories!)
And, it's not hard to do. As the ingredients list shows, please get creative with your seasoning. You can have perfectly good oven dried tomatoes with just salt, but consider adding Cajun seasoning, garlic powder, sumac…whatever you try, it will probably be great!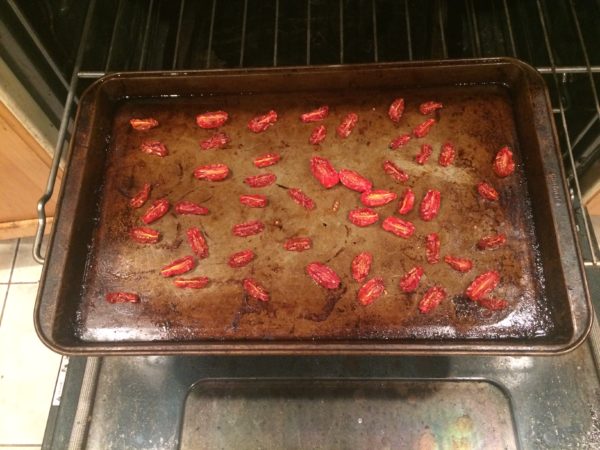 Cut tomatoes in half. A serrated knife – like a steak knife – works best.

NOTE: overly ripe tomatoes get mushy, and make a mess when you try to dry them out. Discard any tomatoes with seeds that fall out when you cut them in half.

Toss tomato halves in a bowl with olive oil. Alternately, if you have an empty butter spray bottle, put oil in there and spray the baking sheet.

Dump the tomato halves onto a baking sheet, and flip all of them with the cut side facing up. If using a spray bottle, spray the tops of the tomatoes. Sprinkle salt and any other seasoning you like over the top of the tomatoes.

Bake in oven for 3 hours. Check the tomatoes, and extract any that are shriveled up and dry. Continue cooking, checking every 10 minutes or so, until they are done to your satisfaction. Four hours total is typical.

Scrape any remaining oil and seasoning from the baking sheet, and mix it into the container with the oven dried tomatoes.

Store in a sealed container in the refrigerator. The oven dried tomatoes will keep for at least 2 weeks.
You can also save yourself a lot of calories by not having the finished tomatoes swimming in oil: the amount of oil on the pan is sufficient.