I was shocked by how many Weight Watchers points regular gummy bears are: 1 point for 3 of those little sugar bombs?? NNOOO!!!!
But, here's a way around that. I adapted the following from https://elanaspantry.com/gummy-bears/
NOTE: the images here are from when I used other diet juices.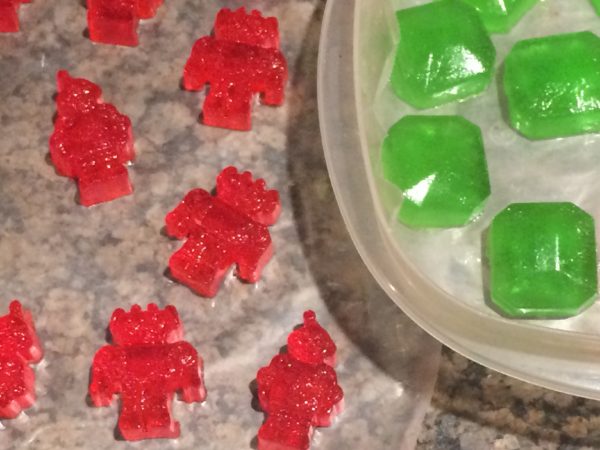 | | |
| --- | --- |
| | |
Heat the juice to a boil, then reduce to a simmer. Stir in Stevia and lemon juice.

Gradually whisk in gelatin until fully incorporated.

Lightly spray candy molds with cooking spray.

Allow mixture to cool a bit, then carefully spoon into candy molds. Mine are robots, because all the bear molds were gone from Michael's.

Refrigerate for at least an hour so they completely set.

Push gummies out of each compartment. Trim lose edges if desired with kitchen shears. Dab the tops of gummies with a paper towel to remove excess cooking spray as needed.

Eat all of them without any guilt. Repeat steps 1-7.
Candy molds are usually floppy, and it's hard to move full ones without the liquid sloshing around. I put a small cutting board under the mold before pouring the liquid. This made it easy to transport.
It's actually 0 Weight Watchers points for 1-7 gummies, and only 1 point for 8-22. So, I guess my gummy bear diet is off the table, but it's still absurdly light for a tasty snack.