I've had fun stripping out what makes a dish heavy to create plates of food that have a microscopic point value. But, sometimes, I really, really just want to have something hearty. The 4 points for an 8 ounce bowl of Beef Bourguignon is about as light as you can get it without removing something that makes it taste so good. But, I lightened it up a bit by using no extra oil (I cooked everything in rendered bacon fat), no flour (it thickened up enough on its own), and Skinny Girl red wine. Delicious, and I don't have to feel bad about eating it. Only 251 calories per serving, with only 6g of fat and 27g of protein.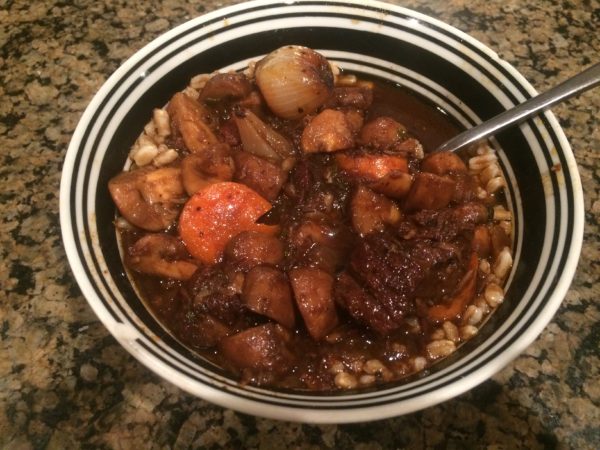 | | |
| --- | --- |
| | |
Cut bacon into small pieces. Cook on medium heat in the pressure cooker pot without the top on. Cook until fat is rendered out of the bacon.

Cut sirloin onto 1 inch chunks. Add sirloin to the pan, stirring around with bacon and far, cooking just long enough to brown it on all sides. Remove sirloin and set aside, but leave bacon and remaining fat in the pot.

Cut carrots into slices. And carrots, thyme, and onion and stir thoroughly into the bacon. Cook for 10 minutes, stirring occasionally.

Move carrots, bacon, and onions out of the way (but leave in the pot), and place grated garlic in the opening. Cook for about a minute, stirring constantly. Then, blend together with the rest of the ingredients in the pot.

Add wine, tomato paste, sherry, and stock, stirring thoroughly.

Add beef, then close and lock the lid. Raise the heat to High. When the valve on the top of the pressure cooker starts hissing, lower the temperature to medium-high. Cook for 12 minutes.

Remove from heat. Place in sink, and use the "quick release" method: spray water on the lid of the pressure cooker, but not the valve.

Serve over farro or other grain.