This is based on a New York Times cooking recipe from 1975. The adjustments I made were using significantly lighter ingredients, and adding a lot more blueberries.
This recipe was made possible by Swerve, a 0 calorie sugar substitute that actually tastes like sugar, with no aftertaste.
I've avoided making sweet things since starting WW because I haven't been able to find a good sugar substitute, until now. I'm completely done with Stevia. I have a giant bag, and I think I'm going to dump it out (and recycle the bag, of course).
When I mixed it, I tasted the batter, and it tasted…like muffin batter! I seriously would not have known the difference between this, and muffins I made previously with regular sugar and regular butter.
Next came the blueberry bombardment. I used 3 cups of blueberries, when even blueberry heavy recipes normally call for 2.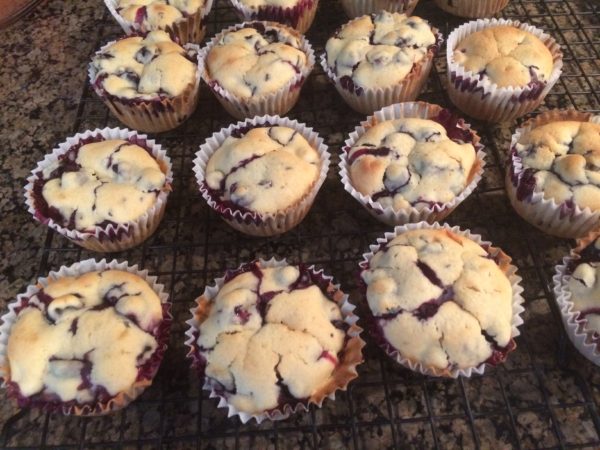 | | |
| --- | --- |
| | |
Preheat oven to 375 degrees F. Combine butter and sweetener in a mixing bowl. Use a power mixer to cream them together. This should be very quick, much quicker than it would be with granulated sugar.

Add eggs one at a time to the mixing bowl, with mixer on low. While still running the mixer, add vanilla extract and milk.

Add flour, baking powder, and salt. Mix until fully integrated, scraping down the sides with a spatula as needed.

Smash 1/2 cup of blueberries, and mix in with batter.

Carefully fold in remaining blueberries, by hand, taking care not to break any.

Place paper liners in muffin tin. Place better in each using an ice cream scoop.

Bake for 25 to 30 minutes. Muffins are done when a toothpick can be inserted and removed cleanly.

Remove muffins from muffin tins, and place on a cooling rack. Allow to cool for a few minutes, and then try to stop yourself from eating all of them.