This bowl of goodness isn't just a looker: you can legitimately claim that it's good for you! The points change depending on how much honey you add. I did consider using Swerve, that little bit of witchcraft I recently discovered, but I settled on a recipe that anyone could make.
After making it with 2 teaspoons of honey, I find it I like it better with 4. This changes the point value from 0 to 1, and 1 point is never a bad thing.
@dunniedad: a sherbet has a milk component. I've made a crazy amount of ice creams and gelatos – pre WW – but this is the first frozen treat I don't have to feel guilty about eating.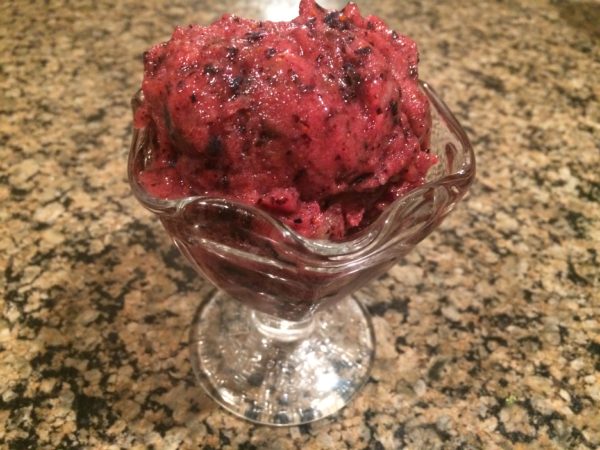 | | |
| --- | --- |
| | |
Remove any stems from blueberries. Spread blueberries on a baking sheet, and place in the freezer.

Freeze at least 4 hours, until fully frozen. Add blueberries and remaining ingredients to food processor.

Blend for about 30 seconds, until it seems that the blueberries aren't breaking down. Use a spatula to push the blueberries down into the blended part of the mixture.

Repeat previous step until the mixture is smooth.

Add additional honey if greater sweetness is desired. Changing from 2 tsp to 3 tsp raises the points from 0 to 1.

Serve immediately or freeze again if a firmer consistency is desired.

If you have an ice cream churn, use it according to manufacturer instructions.

If you don't have an ice cream churn, the sorbet will freeze until it's as hard as a rock. To serve, place in microwave safe container and heat for about a minute to soften.