As a second generation Italian (pronounced "Eye-talian"), Pesto sauce is practically in my blood. The big issue I've always had is how much oil is usually used: a jar of pesto from the supermarket that's separated will be half-full with just the oil. I worked on using less oil, which works somewhat, but still doesn't take care of the root issue: there's still a ton of calories in oil.
But, this treatment fixes that. I remember seeing a recipe years ago where someone used stock to replace oil, and I decided to try that here. It works, though you don't have that clingy luxuriousness that oil brings. But, if you noticed that first line above, that's a sacrifice I'm willing to make: regular pesto is a staggering 9 Weight Watchers points per 2 ounces, and even reduced fat pesto is 4 points.
Besides the stock, I also shaved off some points using almonds (5 points), which are lighter than most other nuts (8 points for pine nuts and most others). Note that using reduced fat grated parmesan doesn't change the point value (2 points vs 5 for regular cheese), but it does greatly affect the taste! Freshly-grated parmesano reggiano cheese really makes this pesto sing.
More fun with pesto: you can replace the greens with just about anything. See the Recipe Notes after the recipe for some suggestions.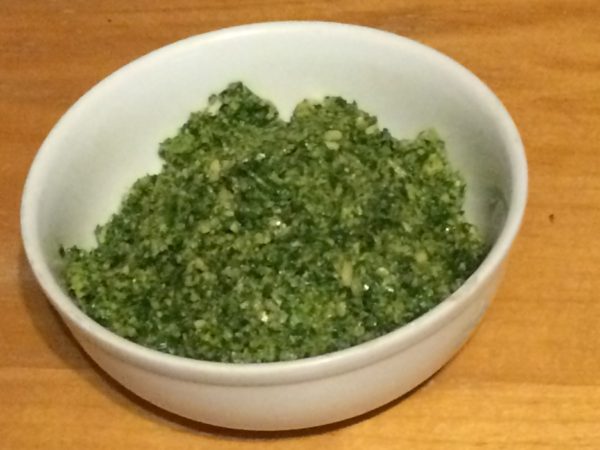 | | |
| --- | --- |
| | |
Pulse basil, garlic, nuts, and cheese in food processor.

Stream in vegetable stock while running food processor until it has the consistency you want.

Add salt if desired to taste (though the cheese should provide enough salt without it).
Refer to How to Make a Stock to make your own stock for this recipe.
Pesto can also be made many different ways. Here are ways to switch up the ingredients:
Instead of basil, try one of these greens:
Instead of parmesano reggiano cheese, try a different hard cheese like:
Gruyere
Manchego
Gouda
Cheddar
Instead of pine nuts, I used almonds. You can also try
Peanuts
Cashews
Pistachios
Walnuts
Pecans
Get creative!