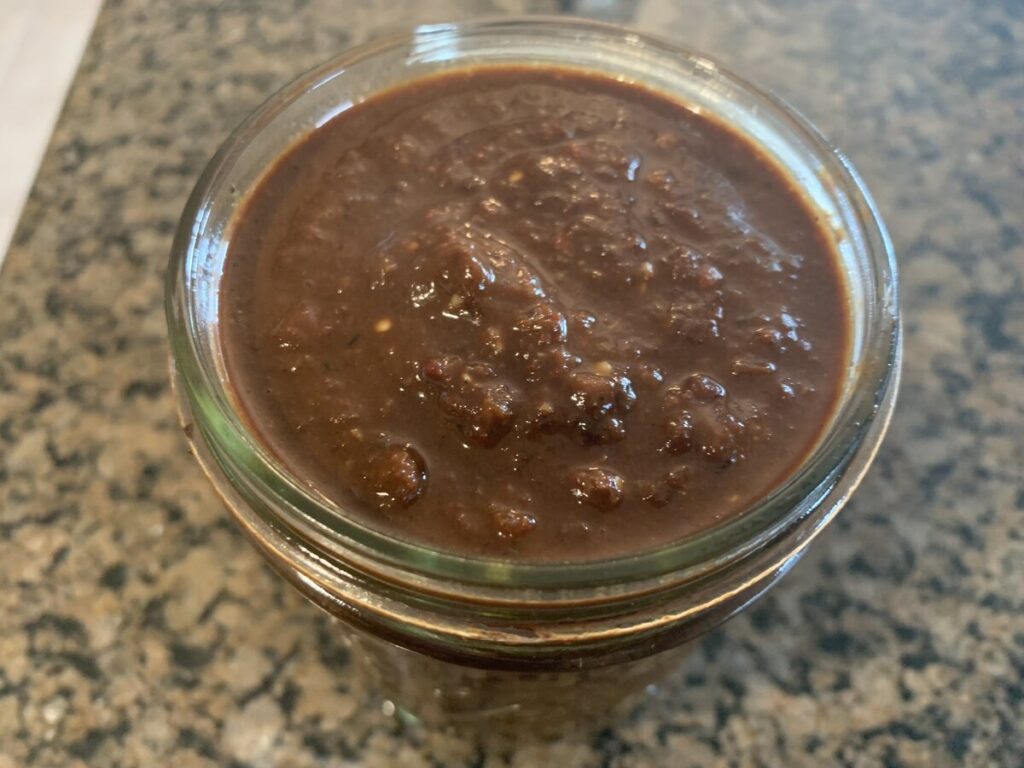 A friend posted a similar recipe nearly 2 years ago, and I finally decided to make it. As per usual when I make something, I didn't make it line-for-line the way Craig posted it, but I did take a lot of inspiration from it. As I looked at other mole recipes, I see there are different interpretations. I decided to try combining a few steps, and I think it worked out. I also fire roasted the vegetables before pureeing them, which is something I always do when I make anything from that region. I also added cumin, which I haven't seen in many mole recipes. But, adding cumin to recipes makes me happy, so in it went. And, I managed to make mine with "only" 22 ingredients (I feel like we're playing Name That Tune….and I realize that this reference is over the heads of most of those on the forum, but I'm sure some will get it).
I was also unable to locate all the dried chili peppers I wanted to use; I ended up with just ancho chilis (which are dried poblanos) and chipotles (which are smoked and dried jalapenos). I went with a 1:1 proportion for these peppers, so my mole is muy caliente. This is a feisty sauce that I will feature in other recipes.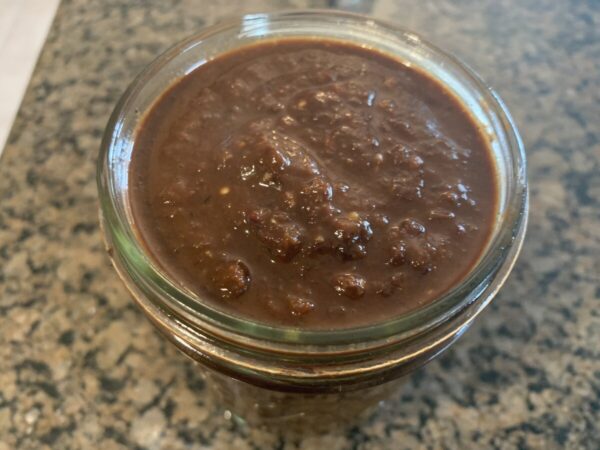 | | |
| --- | --- |
| | |
Remove the stems from the ancho and chipotle peppers. Place peppers in a bowl and cover with hot tap water. Allow to soak for half an hour. IMPORTANT: do not discard the liquid that results from soaking the peppers!

While the peppers are soaking, oil onions, tomatoes, tomatillos, and garlic cloves and place on a grill sheet over an open flame. The garlic will roast fastest, so watch it to make sure it doesn't burn. Remove from heat and allow to cool somewhat. Peel the skin from the tomatoes and tomatillos and discard. Remove any burned parts of the onion and discard. Set aside.

Chop soaked chili peppers and place in food processor. Add about a cup of the water that the peppers soaked in to the food processor. Process to form a paste, adding more of the "pepper water" if needed.

Add every ingredient from almonds through bay leaf to a pan on medium heat. Roast while moving the contents of the pan around continuously until fragrant, making sure not to burn them. Remove from heat and grind everything together to form a powder.

Combine powder from step 4 with remaining ingredients, except for the cocoa powder and the chili paste from step 3. Process until smooth.

In a large pot on medium heat, heat the chili paste from step 3. Continue heating it and scraping the pan to boil off some of the moisture. When it seems to thicken a bit, add the mixture from step 5. Stir thoroughly, then mix in the cocoa powder. Cook for a few minutes. If desired, return the mole to the food processor to smooth out.