My ultra light pesto is the key here; see the recipe linked in the Ingredients list. If you want to make this with a reduced fat pesto, it's a 2 point (Weight Watchers) recipe. Regular pesto makes it a 3 pointer.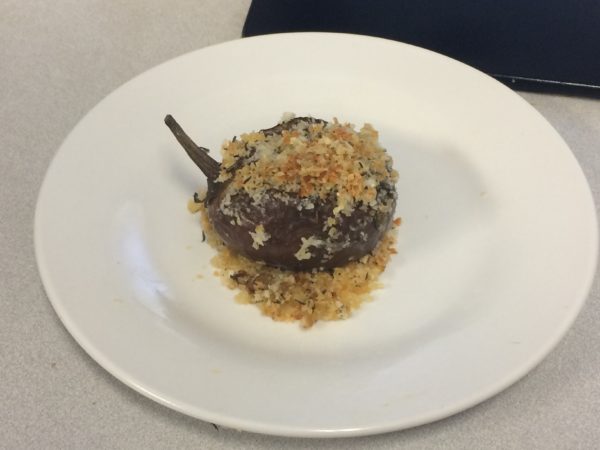 | | |
| --- | --- |
| | |
Preheat oven to 375° F / 190° C.

Wash eggplant. Leaving the stems on, cut each eggplant at 1/4" intervals so the eggplant stays connected by the stem. Sprinkle inside the gaps with salt.

Spread pesto evenly in the gaps of each eggplant. Spray a high-walled baking pan or casserole pan with cooking spray. Place eggplants in the pan.

Cover baking pan with foil. Bake for 40 minutes or until tender.

Blend breadcrumbs, cheese, and thyme and set aside. Turn on the broiler. Remove the foil from the baking pan. Rotate the eggplants so the gaps are facing upward.

Sprinkle each eggplant with the breadcrumb mixture. Broil until the breadcrumbs are browned.