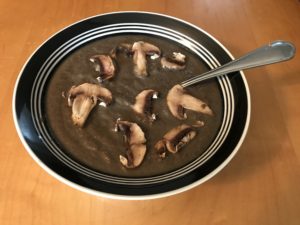 When some people want to thicken a soup, they add flour or cornstarch. Others might add milk or cream. I prefer to add more of the main ingredient: I use probably double the amount of mushrooms here compared to what you'll see in a "normal" recipe. The sheer volume makes the soup thick without adding anything that's bad for you. Best of all, it adds even more mushroom flavor.
I went heavy on the garlic in this recipe because I wanted to be able to taste it. This is still a very mushroom-forward dish, but the roasted garlic notes are unmistakable. Use half as much garlic if you want the garlic to be more subtle.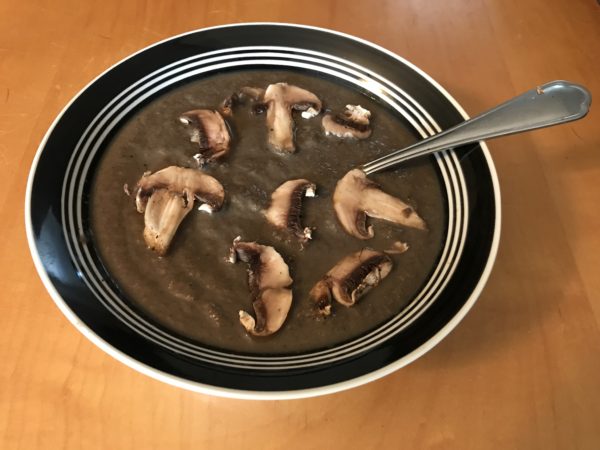 | | |
| --- | --- |
| | |
Scrape the veins on the underside of the portabella mushroom caps off and set mushroom caps aside. If you're making your own stock, add the scrapings to the stock mixture. If you're using store-bought stock, add the scrapings to the stock and heat for 30 minutes. Strain through a sieve to remove the particles, and set stock aside.

Heat a large pot to medium heat. Add butter and grated garlic. Stir to coat, and add thyme. Heat for about a minute, stirring constantly, until slightly browned.

Chop portabella mushrooms and all but 3 ounces of white mushrooms into chunks. Reserve the remaining white mushrooms - uncut - until later.

Add mushroom chunks to the pot. Stir thoroughly to coat.

Reduce heat to medium-low. Cook for at least half an hour, stirring occasionally. Continue cooking and stirring until all the mushroom pieces are softened. This process extracts the moisture from the mushrooms and concentrates the flavor.

Add stock to the pot and mix thoroughly. Cook for another half hour on medium heat.

Pour soup into a blender, working in batches, and puree the soup. Return to the pot. Add salt and pepper, adjusting to taste.

Cut remaining white mushrooms into thin slices. Ladle soup into bowl, and place a layer of mushroom slices on top of each bowl. Serve immediately.