This one was about as close to sorcery as anything I've ever made. While gumbo technically can be made without a roux, it just isn't the same. After visiting New Orleans last year, asking a lot of people, and trying a lot of gumbo, I'm convinced of that.
A roux consists of flour and oil: that's where all the points come from here. I used 2 ounces of canola oil and 1/2 cup of flour (half of what I used before joining Weight Watchers). The rest of the thickening came from okra.
I ground my own lean chicken breast and seasoned it to make a chicken andouille sausage. This is really good by itself, so I saved some for other meals.
I also made my own stock from the shrimp shells; this is a big 0 because it was just vegetables, seasoning, and water.
The rest consists of bell peppers, onion, garlic, tomato, Serrano pepper, various seasoning, and File powder (sassafras flavoring…another gumbo requirement as far as I'm concerned).
The result is really good: it has that subtle "fried" flavor that a roux provides, but I'm comfortable enough with how healthy it is that I don't feel bad about having seconds.
NOTE: the file powder doesn't have any substitute, but this is still a very good gumbo without it. The fried shrimp on top of the gumbo is cornmeal-battered, and is not part of this recipe.
This is served with a piece of cornflake crusted shrimp and cauliflower rice.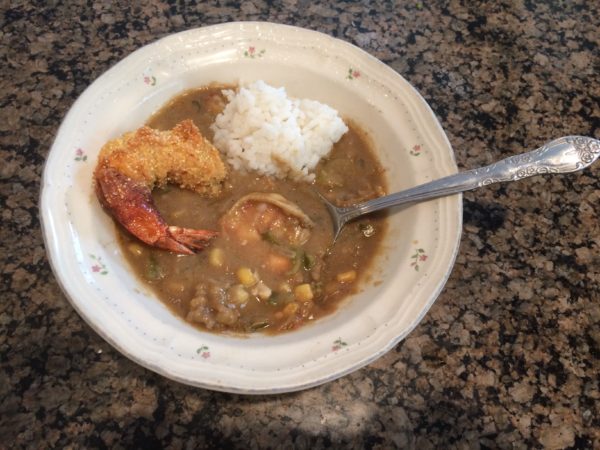 | | |
| --- | --- |
| | |
In a large pot over medium heat, add the oil. When the pan is hot, stir in flour using a hard plastic spatula to begin preparation of the roux.

While preparing the roux, heat a pot of water with a dash of sugar in it until it boils. Add corn and heat until bubbling again, then reduce heat to a simmer. Cover and cook for 8 minutes. Remove corn from water. When cool, cut kernels off the cob and set aside.

Also while preparing the roux, heat seafood stock on low heat with shrimp shells. Stir occasionally. Remove from heat when the roux is ready. Strain the shells and any other particles from the stock and set aside.

Continue stirring and turning over the roux until the color resembles chocolate, about 30 minutes.

Add the onion, celery, and bell peppers, cooking for 5 minutes, stirring into the roux to ensure that every part is coated. Season with salt and pepper. Scrape the bottom of the pan and move the vegetables around so all of them have an equal amount of time on the bottom of the pot.

Add the tomatoes, garlic, okra, and chili peppers and cook for about 5 minutes, scraping and stirring as in the previous step.

Stir in the stock, corn kernels, bay leaves, oregano, thyme, and Old Bay. Bring the liquid up to a boil, about 8 minutes. Reduce the heat to medium, and continue cooking for 15 minutes.

While the stock is cooking, break the ground chicken into small pieces and cook in a separate pan until browned. Remove from pan and place on paper towel, but leave the rendered fat in the pan.

Using the pan with the rendered fat, cook shrimp with file powder on medium heat for about 2 minutes, then flip over and cook for 1 more minute.

Fold the shrimp and ground chicken into the pot, reduce the heat and simmer for 5 minutes. Add water, increasing or decreasing to achieve desired consistency. Add salt and pepper to taste. Remove from the heat. Remove Bay leaves and discard.

Serve over cauliflower rice if desired.