First, let's play a game: use voice-to-text on your phone to say "Shakshuka" (pronounced Shack-SHOO-kah), and post what your phone thinks you're trying to say (mine thought I said "Shack sugar" and "Suction Cup").
Now then. Shakshuka is one of those wonderful recipes that doesn't require any adjustment at all to be ultra healthy, and also faithful to the proper recipe. @beth-bueschler51 (on Weight Watchers Connect) shared a picture of shakshuka she had, and shared the recipe she was given (thanks again, Beth!) The recipe didn't have all the measurements for a proper recipe, so I'm posting what I did. I also added ground chile de arbol for some heat, which is a bit like cayenne pepper with character.
The only ingredients that have any points at all are the oil and tomato paste, but they're in such a small quantity that this still comes up as a 0-pointer (and a wispy 132 calories per serving). I had mine with the #2ingredientnaanbread I made previously.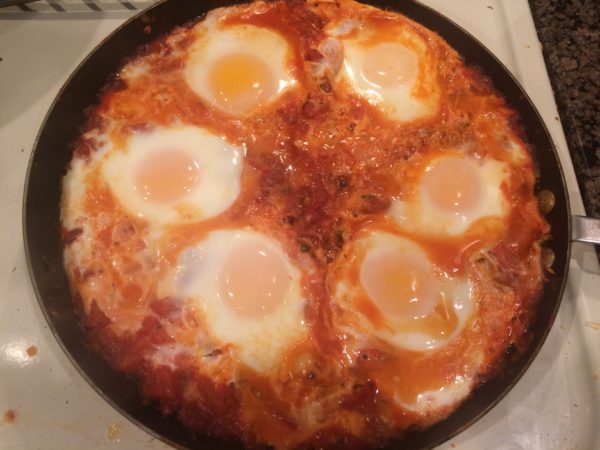 | | |
| --- | --- |
| | |
Saute onion in a large pan on medium heat for about 10 minutes or until softened. Add garlic and stir constantly for 1 minute. Add oregano, basil, salt, and pepper, and stir constantly for another minute.

Add tomatoes and tomato paste and stir to coat. Bring to a boil, then lower to a simmer and cook for 10 minutes.

Make an opening for one egg, and crack the raw egg into the opening. Create openings and add eggs one at a time in a ring around the outside of the pan. Cook for another 10 minutes with the cover on or until the eggs are done to your liking.

Serve with my naan bread or other bread.