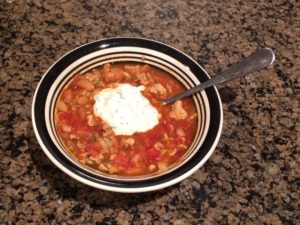 I'm so glad I didn't decide to make this as a white chicken chili. To do that, I would have had to leave out two of my favorite things in a chili: chilies (duh) and tomatoes. Besides being ridiculously healthy, it's also pretty and very tasty.
I ground my own chicken from breast meat, leaving in the little bit of fat that came with them. It's really negligible…something on the order of a 97%/3% mix, but I think it helps with the sizzle.
I also decided to try a quick prep of the dried mayocoba beans. Typically, they're soaked overnight, then boiled for a long time to soften. I found that I can achieve the same results in 30 minutes using a pressure cooker and enough stock to cover the beans, plus a few inches. The beans weren't totally soft, which is what I wanted: the cooking process in the chili would finish the job.
Also, in my recent penchant for shortcuts, I decided not to devote much time to the tomatoes, and instead went with the canned variety.
This is not a very spicy soup…it's intended for normal people who don't want their faces burned off by the heat.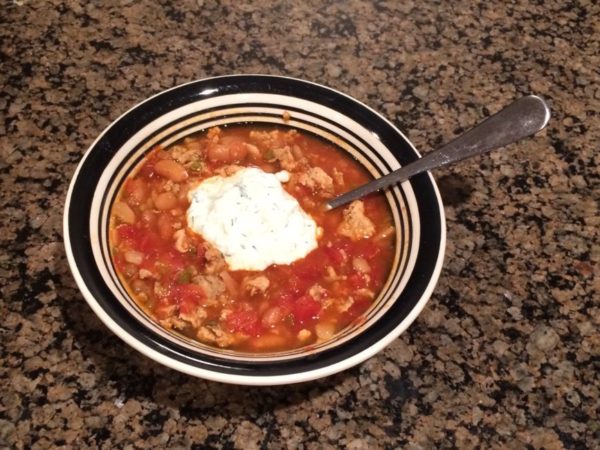 | | |
| --- | --- |
| | |
Heat bacon in a large pot on medium heat until the fat starts to render. Add onion and saute for about 5 minutes. Add pepper and saute for another 5 minutes. Add garlic and saute while stirring continuously for 1 minute. Fold in spices and allow to cook for 1 more minute.

Add ground chicken to the pot and stir in thoroughly. Continue stirring and breaking up large pieces until all sides are partly browned, a few minutes.

Add tomatoes, scraping the bottom of the pot to loosen up bits of the chicken as needed.

Add stock. Bring to a boil, then reduce heat to medium-low. Cook with cover off for 30 minutes or until reduced to desired consistency. Add salt as needed to taste.

Serve with fat free Greek yogurt.